Not able to find a report that you think is assigned to you?
Make sure you looking under Visits under the Schedule tab.
"Pull down" on your screen when under the Visits tabs to refresh that screen and retrieve any new visits.
Try signing out and signing back in if you really don't see it (this does the same thing as "pulling down" to refresh your visits.
*PSA You should NOT be creating a post via the website or filling out another report if you cannot locate the correct report. This messes up the data and does not count as a complete report! Email us at support@thirdchannel.com so that we can help.
Ready to schedule a visit?
All visit reports will need to be scheduled prior to beginning your report.
Tapping on Visits in your menu, there are 4 tabs at the top. Currently, this report is in Schedule since it needs to be scheduled prior to filling it out. Note the (1) on the Schedule
Tap on the Schedule Note the store and other information about the type of report this is (Campaign, Ivy Park).
Tap on Set Date
Tap on Select A Date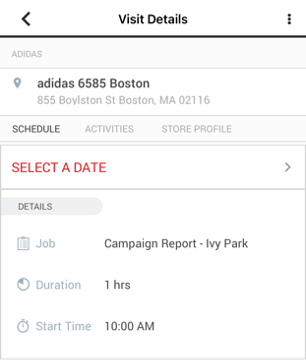 Tap on an available date for your visit.
*Some visits require you to set a time. Drag the green time slot to the desired start time.

Tap on Set Date to confirm the visit time and date. Your date and time are now set!
Ready to start your visit?
This visit has now moved over to the Upcoming tab since it has been scheduled. Tap on Start Visit to begin filling out your report.
You will be asked to confirm the details and when ready, select the red banner to Start Visit.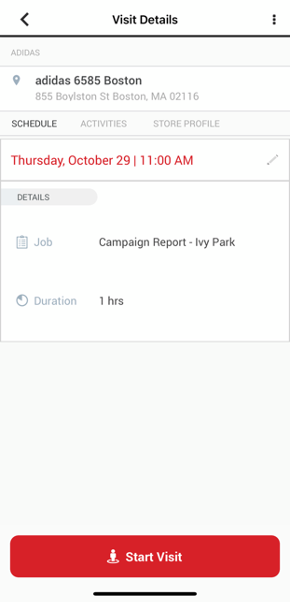 The Location Check-in screen will ask you to confirm the store you have selected is correct and Check-In.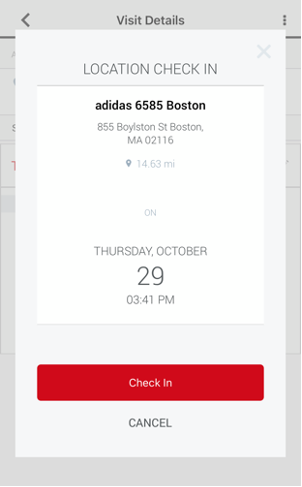 Please Note: The only option to move forward is to confirm the store location shown is the one you want to complete a report for. You must select Check-In, even if you are not at that physical location currently (it will show you that you are X miles away from the location, please select Check-In/Confirm regardless in order to move forward).
On the Activities screen, tap on any activity to get started (Activities with a red bar are required). Note that the Submit Report banner at the bottom is grayed out since there are required activities to complete before submitting.
Fill out the report as you make observations in your store. There may be a variety of question types and some may require additional explanations.
Ready to submit your report?
When you have finished filling out all sections of the report, return to the Activities screen and tap Submit Report.
Once your report has been uploaded, it will move to the Completed tab and a pencil icon will appear in the upper left corner. You can Edit your report by tapping on the pencil icon.