Commenting on Visits or Posts
Use the Social Collaboration tools to: Like, Follow, Comment, @mention, Share Visits and Posts and even review full Visit Reports on the Activity Feed.
Like, Follow and Share
Keep a close eye on specific activities so that you can view the conversation through to resolution, even if your name wasn't @mentioned.
Like a comment from your fellow team member. Community Managers and Representatives of your brand program will also LIKE your posts and visits.
Skip the emailing back and forth offline and carry out the conversation efficiently in one place by tapping Follow (Unfollow) that will keep you in the loop on a particular Visit or important Post.


Use the Share function to send a link to a Visit in a private message or to send someone a link directly to the Visit or Post you need them to see.
Full Visit Reports and Alerts
All Visits will have a link to the Full Visit Report which contains all the responses and photos from your visit report.
Some reports will have a link to any Alerts mentioned.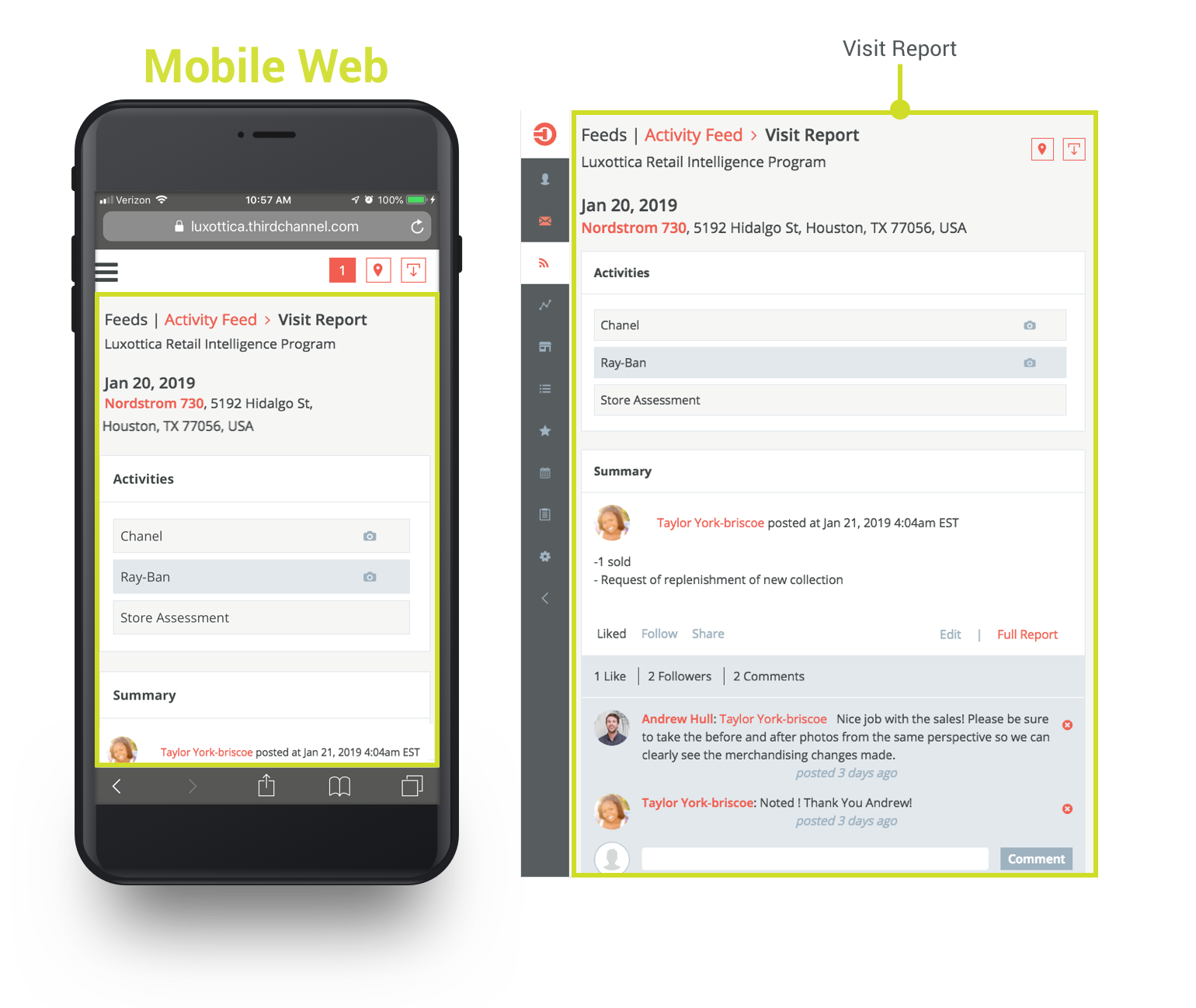 @mention
With the @mention (pronounced, 'at mention') feature, you can collaborate with other Field Team Representatives, Community Managers and representatives of your brand program directly within posts and comments on store reports. Every time you @mention someone, the recipient will receive a direct message in the platform about that Visit or Post. This will keep questions in context and help keep all responses close to the specific topic in question.

How do I @mention (at mention) someone in a post?
1. Tap inside the comment field.
2. Use the '@' symbol before the name of the person you want to notify or @mention.
3. Select the name of the person who you want to notify or @mention from the Field Team dropdown.
4. Complete the rest of your message as intended.
5. Select DONE to publish the comment live to the Activity Feed.

(*) The @ symbol is on your second 'number' keypad.
The number keypad will display when you tap on the 123 key from the alphabet keypad.
To return to the alphabet keypad, tap on the ABC key on the number keypad.
Like a post, Start a comment, @mention someone, click "follow" to stay informed!
See also: